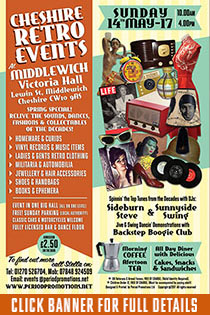 CHESHIRE RETRO EVENTS AT MIDDLEWICH
Victoria Hall, Lewin Street, Middlewich, Cheshire,CW10 9AS
SUNDAY 14th MAY-17  10.00am-4.00pm
SPRING SPECIAL, RELIVE THE SOUNDS, DANCES, FASHIONS & COLLECTABLES OF THE DECADES!
* HOMEWARE & CURIOS
* VINYL RECORDS & MUSIC ITEMS
* LADIES & GENTS RETRO CLOTHING
* MILITARIA & AUTOMOBILIA
* JEWELLERY & HAIR ACCESSORIES
* SHOES & HANDBAGS
* BOOKS & EPHEMERA
EVENT IN ONE BIG HALL (All on one level)
FREE SUNDAY PARKING (local Authority)
CLASSIC CARS & MOTORCYCLES WELCOME
FULLY LICENSED BAR & DANCE FLOOR
ADMISSION £2.50 ON THE DOOR!
To find out more call STELLA on: Tel: 01270 526704, Mob:07848 924509
Email: events@periodpromotions.net
WWW.PERIODPROMOTIONS.NET

Spinnin' the Top Tunes from the Decades with DJ's
SIDEBURN STEVE & SUNNYSIDE SWING
Jive & Swing Dancin' Demonstrations with the BACKSTEP BOOGIE CLUB
ALL DAY DINER with Delicious Cakes,Snacks & Sandwiches. Morning Coffee & Afternoon Tea.
Read more ..