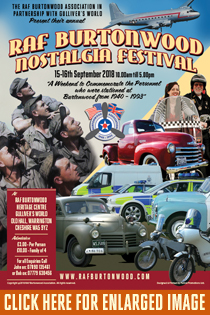 The RAF Burtonwood Association in Partnership with Gulliver's World
Present their annual
RAF BURTONWOOD NOSTALGIA FESTIVAL 15-16 September 2018 10.00am till 5.00pm.
A Weekend to Commemorate the Personnel who were stationed at Burtonwood from 1940-1993
The festival takes place at RAF Burtonwood Heritage Centre,
Gulliver's World, Old Hall, Warrington, Cheshire, WA5 9YZ.

Read more ..