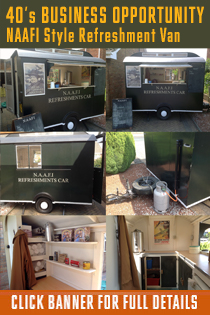 Purchased the van from Holland, I had previously seen it when I attended the Bussum Bridgehead event with my friend Paul Harper the 40's entertainer.
It was built by Martin Idjo who was one of the organisers of the event.
The van comes with a fridge and has had a brand new unused hot water boiler fitted. Also included in the sale will be kettles, jugs, and many items that will allow you to operate an authentic looking NAAFI Style Refreshment Van.

Read more ..